Discover more from Sage Economics
Economics, policy, and musings.
Over 9,000 subscribers
America's Labor Market Surprises to the Upside in August
Unemployment rate down to 8.4%
Over the past four months, America has added approximately 10.6 million net new jobs. In August, we added another 1.4 million jobs, driving the nation's unemployment rate down to 8.4% in the process. Many people re-entered the workforce.
In April, the nation's unemployment rate was 14.7%, but that figure likely significantly understates how bad things were back then. They're still bad, but the fact of the matter is that we economists who indicated that the initial phase of recovery would be v-shaped have been proven correct. Many forecasters had predicted that the nation's official rate of unemployment would still be in the double-digits by year's end. *insert gong sound here*
To put this into further perspective, if America continues to add jobs at a 1.4 million per month clip going forward, we will have recovered all the jobs lost in March and April by May 2021.  But that won't happen.  Given the loss of stimulus, impending large-scale layoffs among airlines, retailers, financial institutions, etc., and the likelihood of accelerating viral spread this winter absent a vaccine, America's v-shaped recovery could easily become a "w". We are not out of the woods. Another stimulus package may be necessary as an economic bridge to vaccine.
Three Takeaways of the Soul-Crushing Variety
Everyone in Iowa is COVID-19 positive. Ok, that's not true, but the virus has insinuated itself into the heartland and winter's not even here yet. What we have learned in recent weeks, however, is that the economy can recover robustly even in the face of significant infection rates.

Some sectors are not poised for recovery in the near-term. Among these are commercial real estate and commercial construction. With credit conditions tightening, commercial vacancy rates elevated, retailers declaring bankruptcy as if it's enjoyable, and many people now choosing to work remotely and many employers allowing them to, commercial real estate fundamentals are generally terrible. This helps explain why nonresidential construction lost jobs in August even as the balance of the economy continues to recover. Read my full insights on the construction industry's employment situation over at Associated Builders and Contractors.

The number of long-term unemployed (defined as those without a job for 27 weeks or more who continue to look for work) remained relatively unchanged at 1.6 million in August. That doesn't sound so bad, but 27 weeks ago takes us to the end of February, before the economic impacts of the pandemic became apparent. Long-term unemployment will increase rapidly during the weeks ahead, and once one has been unemployed for a goodly while, it is often difficult for them to get back into the swing of things. That dynamic could further expand income/wealth inequality in America.
Three Takeaways of the Inspirational Variety
Average hourly earnings rose in August, which means that even absent stimulus, consumer spending could remain a force for good.

Residential construction added jobs in August, a reflection of a surging housing market.  Interest rates remain low and the inventory of unsold homes even lower. That has created substantial opportunities for homebuilders to meet unmet demand. As a consequence, homebuilder confidence hit an all-time high in America in August. Things would be even better if softwood lumber prices hadn't risen nearly 30% over the past year.

The best news? Economists are always wrong, at least collectively. The recovery continues to outpace consensus forecasts. Group-think economists thought that the unemployment rate would fall gingerly to 9.8% in August, but they missed the mark by 1.4 percentage points, which translates into more than 2.2 million people. That's a big miss. Employment gains have outpaced forecasts by comical rates since the beginning of the recovery. Many economists said "u", when they should have said "v"—for victory, vaccine, vibrant, but also virulent.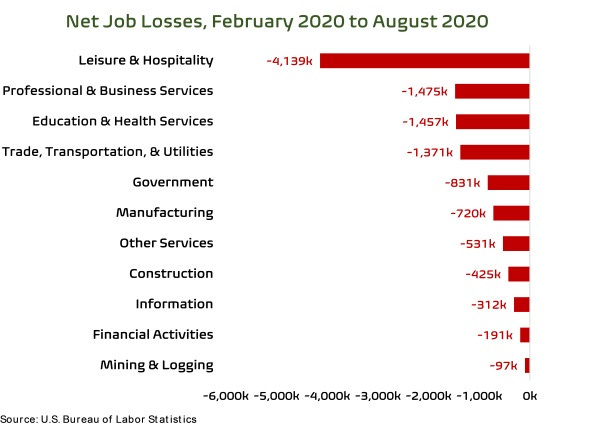 Up Next
Next week we'll learn more about job openings, inflation, and consumer confidence.
Wednesday: Job Openings and Labor Turnover Survey, commonly known as JOLTS (BLS)
Thursday: Producer Price Index (BLS)
Friday: Consumer Price Index (BLS)