Discover more from Sage Economics
Economics, policy, and musings.
Over 9,000 subscribers
Unemployment Insurance Claims Fall
Lack of Stimulus isn't Hurting Us...Yet
Approximately 860,000 Americans filed initial jobless claims during the week ending September 12th.  That was fewer than the prior week. Continuing claims also fell, significantly, from 13.54 million the prior week to 12.63 million for the week ending September 5th.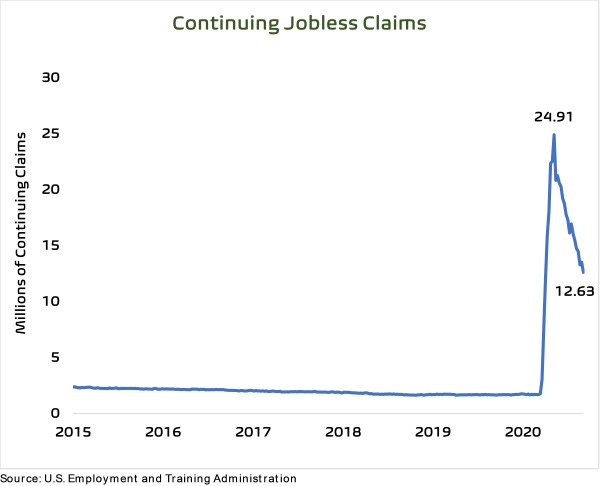 Why is This so Important?
Well, I'll tell you. The stimulus offered by Congress to various economic actors in March and April has effectively run out. Many economists have been concerned that the lack of stimulus would result in a cessation of economic progress.  Instead, we continue to see an improving labor market, rising retail sales, surging home and stock prices, and rebounding manufacturing activity.
Oh, Right. The Other 14.5 Million Unemployed Americans
Earlier this year, Congress stood up the Pandemic Unemployment Assistance Program, or PUAP,  to supply relief to freelancers and other self-employed workers dislocated by COVID-19. This program has been providing financial assistance to nearly 15 million Americans who aren't counted in the regularly reported unemployment claims data.
Of course, the data could be wrong. According to the New York Times, the figure of 14.5 million PUAP claims may be overstated due to fraudulent claims. Normally, the presence of fraud causes me to shudder like an angry nun, but in this instance the presence of fraudulent claims is good news in the sense that it means that economic stress is less than what the data indicate. 
Three Main Takeaways
1. Sing it Bon Jovi – "we're (almost) halfway there" in terms of reducing unemployment claims back to pre-crisis levels.
2. But we're also "livin' on a prayer" since infection rates are high, winter is coming, there is a contentious presidential election season afoot, and Congress is stalled on stimulus. This "V"-shaped" recovery could easily become a "W". 
3. Congress has been giving politicians (and love) a "bad name", but if they pass a stimulus, that could be the economic bridge to vaccine that we need.