Discover more from Sage Economics
Economics, policy, and musings.
Over 9,000 subscribers
U.S. Jobs Situation Better than Expected
Employers add 1.8 million jobs in July, unemployment rate down to 10.2%
There were whispers that America actually lost jobs in July due to resurging infection rates. But once again, the resilience of the U.S. economy was on display, with the nation adding nearly 1.8 million jobs for the month and driving its unemployment rate to a bit above 10 percent.
Read my insights on the construction industry's employment situation over at Associated Builders and Contractors.
While job growth softened substantially in July relative to the previous two months, fears of a second recession this year have subsided a bit (for now). Still, it's not all good news. Unemployment remains high and would be even higher but for a diminished labor force participation rate. Many companies are on the verge of bankruptcy. State and local government finances are in bad shape. We still don't have a vaccine. Congress is struggling to negotiate another stimulus package. One could go on.
Three Key Takeaways
At this rate (+1.8 million jobs per month), we'll return to February 2020 employment levels by February 2021. I don't foresee that happening, but it's nice to think about.

COVID-19 has not been hospitable to the leisure and hospitality industry. The industry, which accounts for about 10% of total nonfarm jobs, is responsible for 34% of the decline in employment occurring since February.

Economic performance for the balance of the year will relate directly to the size and structure of the stimulus package to come. They better get this right.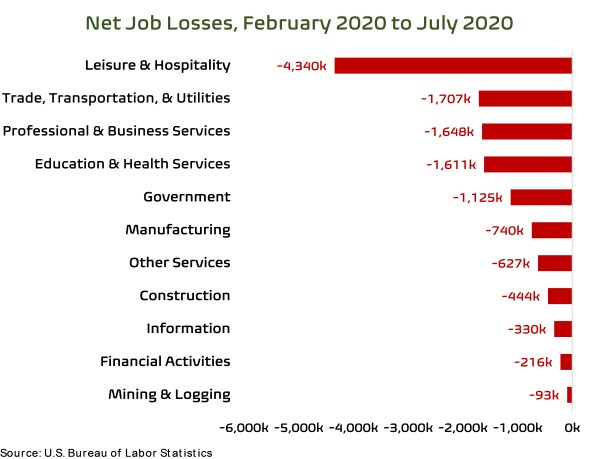 What to Watch
With federal supplements to state unemployment insurance now expired, household spending could decline substantially in August. On the other hand, more people may return to the labor market. This is consistent with the notion that the economy will start to move sideways until the next round of stimulus arrives.
Up Next: Lots of Data. Fun!
Next week we'll learn more about job openings, layoffs, inflation, and consumer confidence.
Monday:  Job Openings and Labor Turnover Survey, commonly known as JOLTS (BLS)

Tuesday:  Producer Price Index (BLS)

Wednesday:  Consumer Price Index (BLS)

Thursday:  Initial claims for unemployment insurance and continuing claims (Department of Labor)

Friday:  Retail Sales (Census Bureau) and Michigan Consumer Sentiment Index (University of Michigan)