Discover more from Sage Economics
Economics, policy, and musings.
Over 9,000 subscribers
U.S. Payrolls add 661,000 jobs in September
Growth Falls Short of Expectations
In what will surely be the second biggest story today, U.S. payrolls increased by 661,000 in September according to the Bureau of Labor Statistics. This is the final employment report prior to this year's elections, and it was not terrific.
True, unemployment ticked lower, this time to 7.9%. But September ended a four-month winning streak during which the economy added 1 million+ jobs each month.  With the virus still present, commercial real estate fundamentals in tatters, credit conditions tightening, financial markets volatile, state and local government finances undermined, layoff announcements accelerating, and winter looming, the board is set for another economic downturn. Given the possibility of economic shutdowns in coming months, it is conceivable that a recession would occur even if another stimulus package is passed.
Perhaps the most alarming aspect of today's employment report was the 0.3 percentage point decline in the nation's labor force participation rate. There are presently 4.4 million fewer Americans in the labor force than in February 2020. With schools struggling to reopen in much of the nation, many parents are pinned at home, unable to offer their services to the labor market. Much of the stimulus that many of these families received during earlier months has likely already been spent.
You can read my insights on the construction industry's employment situation at Associated Builders and Contractors.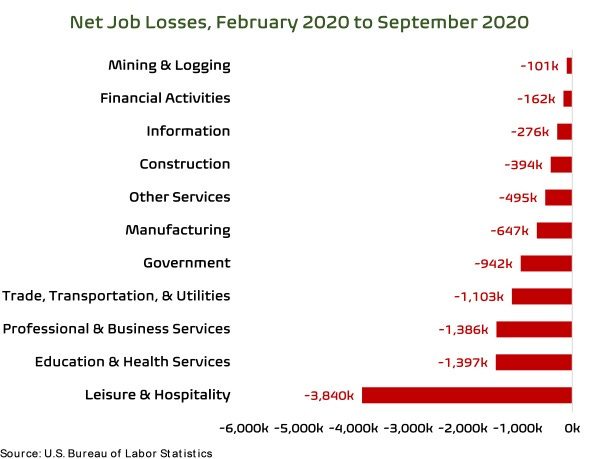 Three Key Takeaways
In September, the employment to population ratio inched up just 0.1 percentage points higher from August and stands at 56.6%, well below February 2020 levels (61.1%).

Leisure and hospitality added 318,000 jobs in September, which equates to a 2.5% monthly increase. While this is 5 times faster than the rate of growth across all industries, leisure and hospitality employment remains 23% below February 2020 levels compared to just 7% for all industries. Moreover, recent employment announcements have not been positive, including 28,000 layoffs announced by Disney.

At September's rate of job creation, which absent stimulus will look impressive in hindsight, we won't return to February 2020 levels of employment until March 2022.
What to Watch
We need additional stimulus—NOW! Will we get another package, Mitch McConnell?  The nation turns its lonely eyes to you.